Case Presentation: An 18-year-old female was admitted with generalized weakness and pallor. She was born with a bluish nodule on her back. Since birth, the patient developed recurrent bluish nodules in the skin, which increased in size and number over time. She was asymptomatic and had never attended a hospital. However, in the last 10 weeks prior to admission she began having episodes of hematochezia as well as melena. Patient mentioned having progressively worsening fatigue. She denied hematemesis, epistaxis, hemoptysis, abdominal pain, hematuria, metromenorrhagia or any other symptoms. She denied having any known illnesses. Patient was not taking NSAIDS or any other medications. She had no family history of skin or bleeding disorders. Physical examination revealed a blood pressure of 108/62, heart rate 78, respiratory rate 12, conjunctival pallor, bluish, soft, mildly tender nodules in all 4 extremities and back, ranging from 1-2 cm in diameter. Her abdomen was soft and non-tender, digital rectal examination revealed adequate sphincter tone, ruled out anal and rectal lesions, however gross bright red blood was found. Laboratory findings revealed a Hg of 5.3 g/dL, coagulation parameters were within normal limits. Patient was transfused 4 units of packed red blood cells. Upper endoscopy, colonoscopy and capsule endoscopy showed multiple bluish nodules on her esophagus, stomach, small intestine and colon. One colonic lesion was found to be oozing red blood and it was subsequently ablated. Further work-up including an MRI of the brain and spine ruled out vascular malformations. Abdominal ultrasonography was within normal limits. Based on the previous findings she was diagnosed with blue rubber bleb nevus syndrome (BRBNS). She was eventually discharged home on oral iron therapy, with monthly outpatient follow-up.
Discussion: BRBNS is a rare disorder usually diagnosed in childhood. It is characterized by distinctive venous malformations of skin and the gastrointestinal tract, often leading to chronic anemia and intestinal bleeding. Involvement of other organs such as the central nervous system, joints, liver, eyes, kidneys and spleen have been described. The diagnosis of BRBNS is clinical and it's based on the presence of characteristic venous malformations in the skin with/without involvement of the GI tract. Autosomal inheritance of BRBNS has been described in several familial cases associated with chromosome 9p. Cutaneous lesions are usually asymptomatic and require no treatment. Management of gastrointestinal manifestations depends on the degree of intestinal involvement. Effective treatment of these venous malformations includes surgical resection, endoscopic sclerosis, and laser photocoagulation. Finally, Yuksekkaya et al reported successful eradication of blue rubber bleb nevi in a young patient treated with low-dose sirolimus.
Conclusions: Performing a systemic evaluation in patients with gastrointestinal bleeding and multiple skin lesions is of great importance. This evaluation will strengthen our diagnostic impression and could also allow treatment of potentially life-threatening complications. In terms of BRBNS, prognosis depends on the organs involved and extent of the disease. Most patients can live a long life, however quality of life could be limited by recurrent GI bleeding and periodic blood transfusions.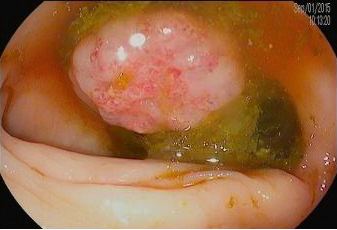 To cite this abstract:
Quintana-Quezada RA, Yeh YC, Llanos-Chea F, Keena B. A Rare Cause of Gastrointestinal Bleeding in a Young Adult. Abstract published at
Hospital Medicine 2016, March 6-9, San Diego, Calif.
Abstract 746.
Journal of Hospital Medicine.
2016; 11 (suppl 1). https://www.shmabstracts.com/abstract/a-rare-cause-of-gastrointestinal-bleeding-in-a-young-adult/. Accessed March 30, 2020.
« Back to Hospital Medicine 2016, March 6-9, San Diego, Calif.