Case Presentation: A 43-year-old female patient with no medical history presented with multiple abdominal wall abscesses. She attended a cosmetic spa four months prior where she received weight loss injections known as "carboxy therapy" to her abdomen. Subsequently, she developed enlarging painful red lesions of varying sizes at the injection sites. She underwent incision and drainage (I+D) of suspected abscesses. Cultures grew Corynebacterium species, which was thought to be a contaminant and not pathogenic, so she was treated broadly with Cephalexin and Bactrim. Despite antibiotics, she developed new lesions and reported fever and malaise which prompted hospital admission. Empiric intravenous Vancomycin and Cefazolin was administered, and the infectious disease team consulted. She remained afebrile without leukocytosis, and examination was significant for multiple erythematous patches on her abdominal wall with areas of fluctuance. She underwent repeat I+D and was discharged on oral Doxycycline and Levaquin as cultures grew only rare coagulase negative Staphylococcus. Outpatient follow-up revealed rapid growing acid-fast bacilli (AFB) confirmed as Mycobacterium(M.) conceptionense, M. houstonense and M. senegalense – susceptible to Cefoxitin, Imipenem, Ciprofloxacin, Amikacin, Minocycline, Bactrim, Tobramycin and Clarithromycin. She has required multiple I+D procedures since then, and has been maintained on long-term antibiotic treatment with Doxycycline and Ciprofloxacin.
Discussion: Rapid growing non-tuberculous mycobacteria (RG-NTB) are rarely isolated in humans, however, there has been increasing concern over the past few decades as more cases evolve in immunocompetent patients who have undergone procedures. M. senegalense is known to cause bovine farcy in cattle. No literature has been published on cutaneous infection of humans with M. houstonense, and the few cases reporting isolation from humans did not distinguish it from the other organisms in the M. porcinum group to which it belongs. One publication reports M. conceptionense infection following fat grafting, another a few cases after cosmetic surgeries (liposuction, breast augmentation), but this is the first known case of M. conceptionense (as well as multiple RG-NTB) infection after cosmetic injections in a presumably immunocompetent host. "Carboxytherapy" is a non-FDA-approved cosmetic procedure involving subcutaneous infusion of carbon dioxide. At this point, it is unclear what the actual components of this patient's injections were. Nevertheless, like most atypical mycobacterial cutaneous infections, she required prolonged courses of antibiotics as well as debridement for cure.
Conclusions: The increasing incidence of RG-NTB in postprocedural/post-surgical patients suggests that AFB cultures should be obtained once there is clinical suspicion of infection, particularly if there is worsening/unresolving infection despite broad-spectrum antibiotics. This is especially so in immunocompromised patients, but as our case suggests – RG-NTB infection can also occur, though rarely, in immunocompetent individuals.
IMAGE 1: Multiple abdominal wall abscesses after cosmetic injections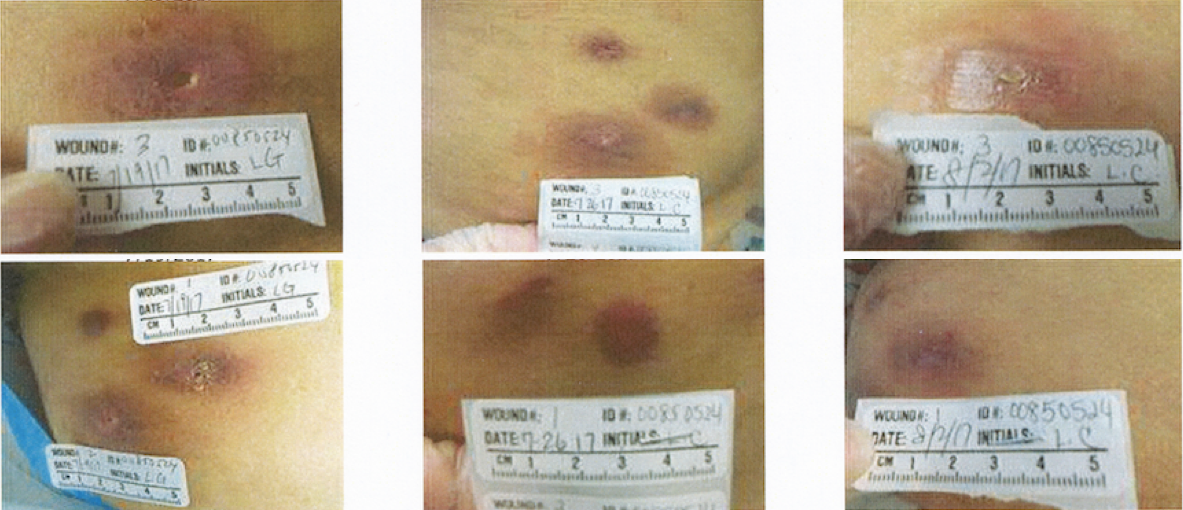 To cite this abstract:
Hanson, H; Oo, H; Ramsetty, S. A RARE CASE OF RAPID GROWING NON-TUBERCULOUS MYCOBACTERIAL INFECTION AFTER A COSMETIC PROCEDURE. Abstract published at
Hospital Medicine 2018; April 8-11; Orlando, Fla.
Abstract 600. https://www.shmabstracts.com/abstract/a-rare-case-of-rapid-growing-non-tuberculous-mycobacterial-infection-after-a-cosmetic-procedure/. Accessed April 8, 2020.