Case Presentation:
32-year-old woman with a past medical history of Hashimoto's thyroiditis and fibromyalgia was admitted to the hospital with frequent episodes of muscular weakness and pain. The patient noted to have a life long history of poor athletic ability. She was never selected to participate in any sport event as a child and she always had mediocre results in sport classes. As a young adult she started to have migratory pain and myalgia. She developed multiple episodes of acute severe muscle weakness and pain. These episodes could last for several hours. Over the last four days prior to admission, she has had many episodes of myalgia and muscle weakness; each lasting for several hours, during which she was not able to open her eyes or to speak. She also had generalized fluctuating pain in her body muscles. She remains awake during those episodes and has no trouble breathing. There are no abnormal involuntary movements. She has migratory numbness and tingling in her toes and fingers before, during and after the episodes. Physical exam and neurological exam were grossly normal. Initial labs including CBC, BMP and thyroid function tests were normal. Head CT, MRI brain and MRI of the C-spine with and without IV contrast were unremarkable. Neurology service was consulted and the patient underwent EEG, EMG and numerous tests including lactate, pyruvate, AChR binding antibody, LEMS antibody, voltage gated potassium channel antibody, anti-thyroid antibodies and Lupus serology. All the above tests were negative except for elevated serum lactate and serum pyruvate (table 1). Patient was treated with supportive care and IV fluids. Her condition remained stable during the hospitalization without any acute episode. Lactic acidosis resolved. Patient was diagnosed with mitochondrial myopathy and was instructed to follow-up with the neurology clinic for outpatient muscle biopsy and genetic testing.
Discussion:
Mitochondrial disorders can occasionally present as an isolated proximal myopathy. Some patients with this condition are almost asymptomatic, while others can have fatigue and exercise-induced symptoms including myalgia and/or exercise intolerance. The diagnosis can be challenging because of the dual genomic origins (nuclear and mitochondrial), multisystem manifestations, and broad phenotypic heterogeneity. Laboratory studies that include plasma or cerebrospinal fluid lactate and pyruvate levels, plasma amino acids, plasma acylcarnitines, and urinary organic acids are recommended in adults with a nonspecific clinical presentation suggestive of a mitochondrial disorder. A muscle biopsy remains one of the main tools to diagnose a mitochondrial disorder. The mainstay of current treatment remains supportive. For patients who are able to participate in physical activity, moderate level aerobic exercise and regular mild resistance training is recommended. Most importantly, patients should avoid certain drugs including metformin, valproic acid and its derivatives, barbiturates, tetracyclines, chloramphenicol and aminoglycosides.
Conclusions:
Patients presenting only with exercise intolerance or myalgia can sometimes be misdiagnosed as suffering from fibromyalgia and not properly investigated. The clinician must be very careful to look for any clue of systemic involvement. The diagnosis can be made through a combination of detailed history, laboratory evaluation and muscle biopsy. There is no proven pharmacological therapy for the mitochondrial myopathy; the treatment remains supportive.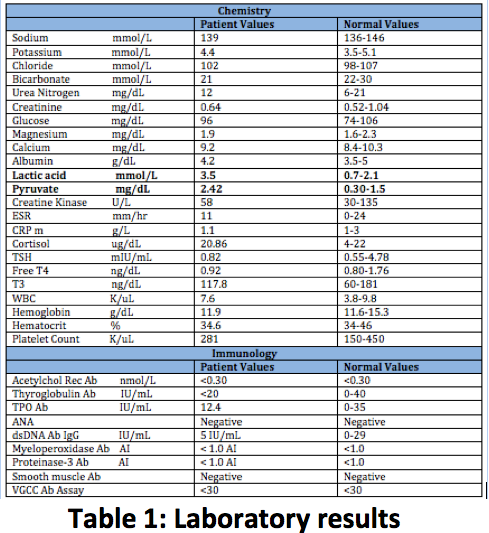 To cite this abstract:
Abed E, Abed J, Judeh H, Gazali R, Gurunathan R. A Rare Case of Mitochondrial Myopathy: A Challenging Diagnosis!. Abstract published at
Hospital Medicine 2015, March 29-April 1, National Harbor, Md.
Abstract 427.
Journal of Hospital Medicine.
2015; 10 (suppl 2). https://www.shmabstracts.com/abstract/a-rare-case-of-mitochondrial-myopathy-a-challenging-diagnosis/. Accessed April 4, 2020.
« Back to Hospital Medicine 2015, March 29-April 1, National Harbor, Md.