Case Presentation:
A 37 yr old black Woman with past medical history of latent TB (on INH Rx) presented to a NC Hospital with complaints of left leg pain& swelling of 10 day duration. Swelling started in the left groin and progressed to left foot causing constant pain & difficulty with ambulation. She was taking Oral contraceptives & had no history of trauma /recent travel or family history of cancer, blood clots. Physical exam revealed marked left leg swelling, tenderness in the thigh and good peripheral pulses with trace edema. Lab studies were unremarkable, venous Doppler revealed left femoral & popliteal Deep Venous Thrombosis. Ultrasound technician remarked "unable to see proximal extent of clot". Thrombophilia workup was done. Patient continued to have severe pain on standard therapy, so Magnetic Resonance Venogram of leg was done. It showed extensive DVT of Lt common iliac, left external & internal iliac veins extending to Inferior Venacava . Patient was taken for venogram & thrombolysis was done after IVC filter was placed. Thrombolysis revealed high‐grade stenosis of Lt common iliac vein, confirming May‐thurner syndrome. Patient underwent IVC filter removal, angioplasty & stenting of Left Common iliac vein & was discharged home two days later on lovenox & Coumadin. Patient finished 6 months Coumadin Rx & has remained DVT free 12 months later. Thrombophilia workup has been negative.
Discussion:
May‐Thurner syndrome is due to significant compression of left common iliac vein between right common iliac artery & lumbar vertebral body. It's clinical prevalence is 2‐3% of all lower extremity DVT's and it results in intimal hyperplasia causing anatomical obstruction & stasis. It is commonly seen in women between the ages of 20‐50.Remembering Virchow's triad (stasis, endothelial injury & hypercoagulability) & realizing that more than one factor may be active may help to narrow down the diagnoses.
Conclusions:
Although May‐Thurner syndrome is a rare cause of DVT, it can cause recurrent episodes of DVT, PE, Chronic venous insufficiency & life threatening thrombosis. Clinicians should look for May‐Thurner syndrome in young women between ages 20‐ 50 (even though they are on OC pills) who present with extensive Left leg DVT as Catheter directed thrombolysis, angioplasty & stenting can cure the condition.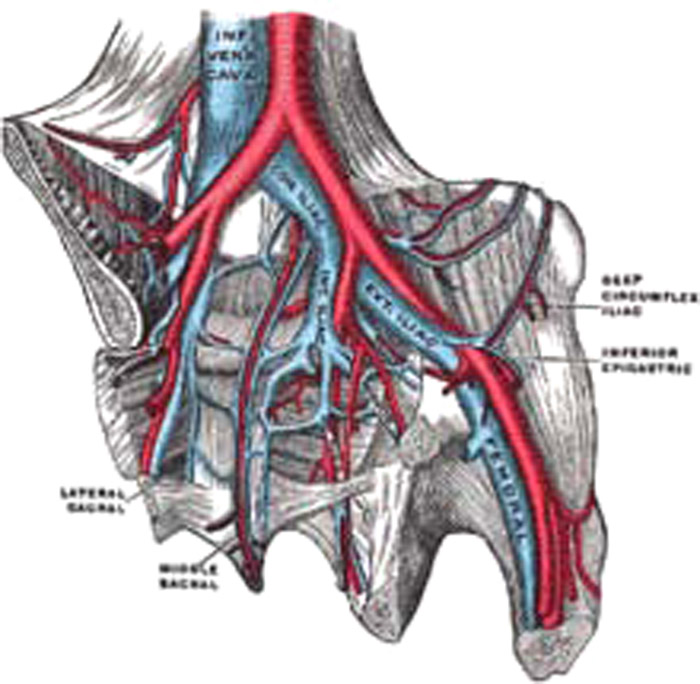 To cite this abstract:
ADI S, Yamadi A. A Rare but Curable Cause of Common DVT. Abstract published at
Hospital Medicine 2014, March 24-27, Las Vegas, Nev.
Abstract 300.
Journal of Hospital Medicine.
2014; 9 (suppl 2). https://www.shmabstracts.com/abstract/a-rare-but-curable-cause-of-common-dvt/. Accessed April 3, 2020.
« Back to Hospital Medicine 2014, March 24-27, Las Vegas, Nev.