Case Presentation: A 57-year old man presented with a painful rash for 3 weeks. He had no medical history besides a 10-year history of a generalized intermittent rash, which had never been this extensive or painful. One month prior to presentation, he was treated for cellulitis with amoxicillin-clavulanate and trimethoprim-sulfamethoxazole. Days later, diffuse erythema and eruptions occurred. His doctor attributed this to a drug rash, stopped the antibiotics and started prednisone. When the rash failed to improve, the patient saw a dermatologist and a diagnosis of subcorneal pustular dermatosis was considered. The prednisone was held and dapsone was started two days prior to admission. His rash worsened, he developed nausea, chills, and severe right knee pain. He was not taking other medications or supplements, had no known drug allergies and no family history of dermatologic or autoimmune conditions.
On admission, he was afebrile, heart rate 121bpm, blood pressure 125/59 mmHg, respiratory rate 20 breaths per minute, and oxygen saturation 92% on room air. On exam, generalized erythematous patches sparing the soles and the face were noted, alongside pustules and tender desquamative lesions. Blood work yielded 29,500 white blood cells with 91% neutrophils, and a lactate of 3.8mmol/L. Basic metabolic panel was unremarkable. He later had a fever, Tm38.00C; infectious etiology was ruled out and a dermatologic biopsy at bedside revealed generalized pustular psoriasis (GPP). He was given intravenous fluids, opioids and put on contact precautions. Treatment consisted of topical steroids and an oral retinoid transitioned to Infliximab, with improvement of the skin lesions and resolution of the patient's knee pain, leukocytosis, and fevers.
Discussion: Psoriasis usually presents with red, scaly plaques on the knees, elbows, and scalp. GPP, a rare and potentially life threatening subtype, involves painful erythematous patches studded with non-infectious pus-filled blisters. Patients are often febrile, systemically ill, may not have a prior diagnosis of psoriasis and present after administration or withdrawal of certain medications. As seen with this patient the inciting factor was the withdrawal of prednisone. GPP is often confused with acute generalized exanthematous pustulosis (AGEP), or subcorneal pustular dermatosis (SPD), however once correctly diagnosed, it responds well to treatment.
Conclusions: This case highlights the importance of recognizing an uncommon presentation of psoriasis, as patients with GPP can behave similarly to burn victims and should be monitored closely for signs of sepsis and electrolyte abnormalities. Misdiagnosis, as seen in this case, can lead to further serious exacerbations with an overall morality rate of 25%.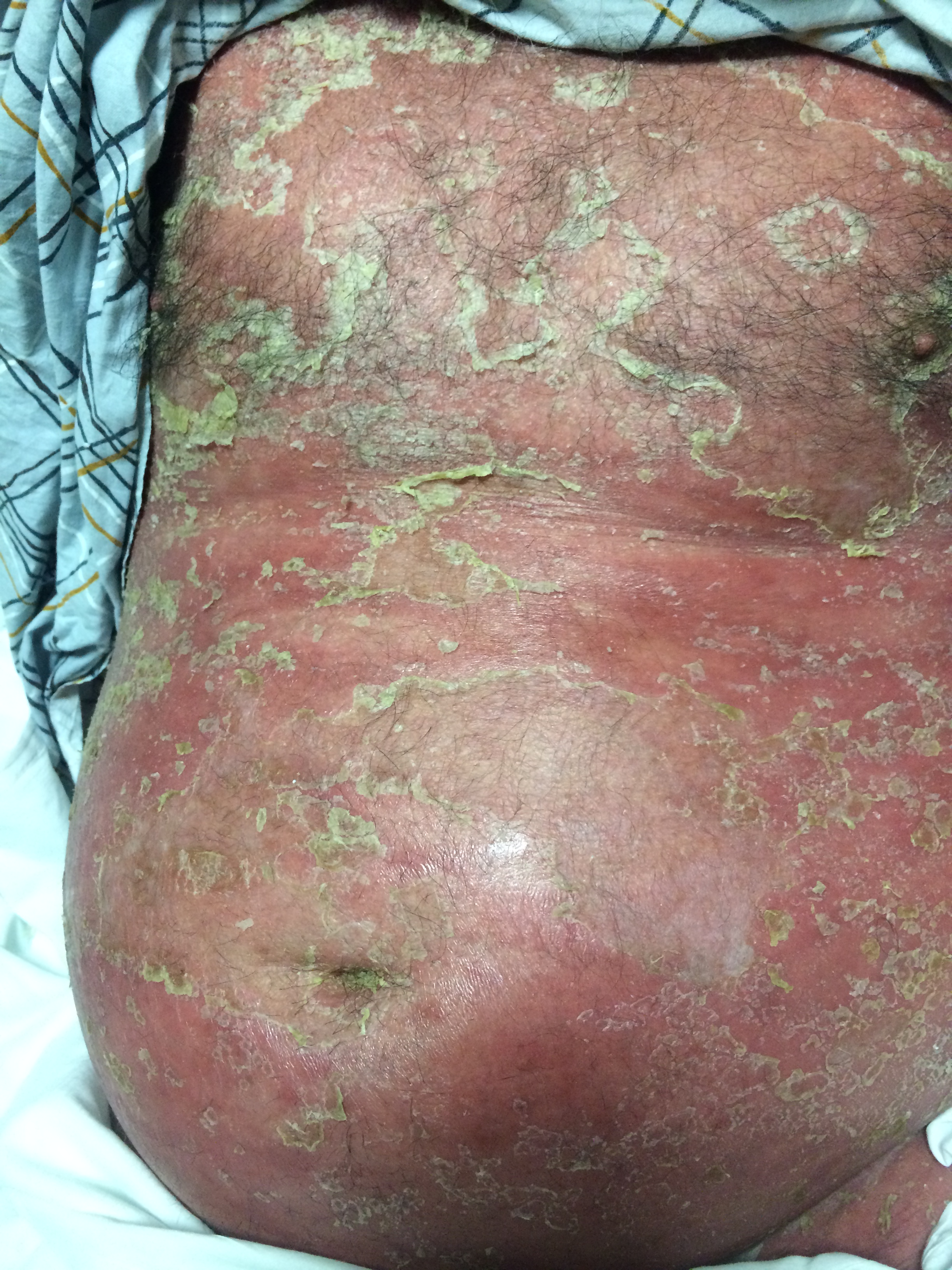 To cite this abstract:
Chancay MG, Patel S. A Rare and Potentially Life Threatening Presentation of Psoriasis. Abstract published at
Hospital Medicine 2016, March 6-9, San Diego, Calif.
Abstract 459.
Journal of Hospital Medicine.
2016; 11 (suppl 1). https://www.shmabstracts.com/abstract/a-rare-and-potentially-life-threatening-presentation-of-psoriasis/. Accessed April 3, 2020.
« Back to Hospital Medicine 2016, March 6-9, San Diego, Calif.