Case Presentation:
A 58-year-old African-American woman with multiple sclerosis and history of recent left thalamic stroke presented with six days of generalized weakness and fatigue. One week prior, she was hospitalized for a transient episode of aphasia that was attributed to recrudescence of her prior stroke. During that admission, she was also noted to have complaints of constipation. Following discharge, she began to self-treat with up to four tablespoons of over-the-counter Epsom salt per day. She began to experience progressive fatigue and weakness in all extremities. Physical examination revealed 3/5 muscle strength in the right extremities and 4-/5 in the left extremities with diffusely hyporeflexic deep tendon reflexes. Abdominal examination was notable for distention and hyperactive bowel sounds. Initial laboratory data revealed hypermagnesemia (7.5 mg/dL) with a normal creatinine (0.9 mg/dL). Electrocardiogram was within normal limits. Brain and spinal cord MRI did not reveal any acute changes. Abdominal radiograph was consistent with ileus. She was initially treated with intravenous furosemide and fluids with correction of her magnesium levels leading to rapid resolution of her symptoms.
Discussion:
Epsom salt is made of magnesium sulfate and has long been used as a laxative. It was described as early as the 1960s as a known precipitant of magnesium toxicity in patients with chronic kidney disease. Oral ingestion of Epsom salt leading to toxicity remains exceedingly rare in patients with normal renal function. It is interesting to note that the recommended dose for constipation is two teaspoons per day. Our case was consistent with prior reports noting toxicity after ingestion of three to four tablespoons per day. It is possible that the patient's ileus contributed to increased absorption of the Epsom salt as magnesium is primarily absorbed within the proximal small bowel. Due to the nonspecific symptoms, the diagnosis could easily be delayed. In this case, the hypermagnesemia was identified and appropriately treated prior to the development of potentially fatal consequences.
Conclusions:
This case highlights a very rare cause of magnesium toxicity in a patient with normal renal function. It brings to light the fact that in a patient with ileus, which often times can present with constipation, the level of serum magnesium may rise much more rapidly to toxic levels even in patients with normal renal function It remains important to be cognizant of the fact that Epsom salt continues to be sold and marketed over-the-counter as a laxative and to educate patients about its potentially adverse effects.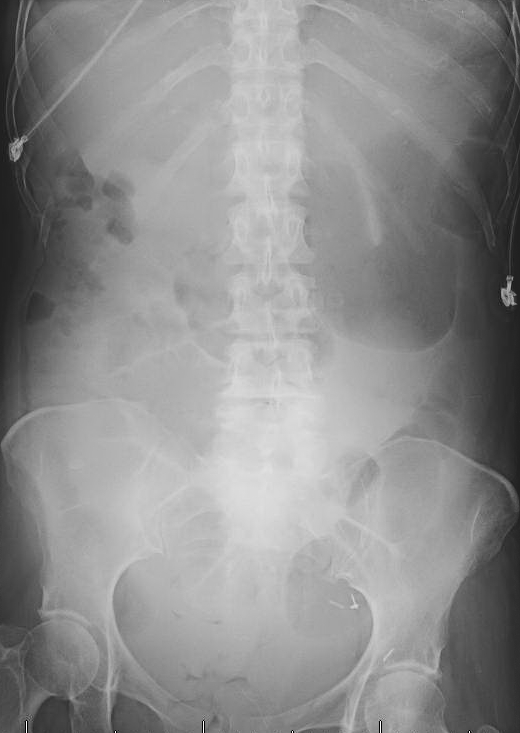 To cite this abstract:
Lee M, Perreault G, Smith J. A Rare and Forgotten Cause of Hypermagnesemia. Abstract published at
Hospital Medicine 2015, March 29-April 1, National Harbor, Md.
Abstract 590.
Journal of Hospital Medicine.
2015; 10 (suppl 2). https://www.shmabstracts.com/abstract/a-rare-and-forgotten-cause-of-hypermagnesemia/. Accessed June 25, 2019.
« Back to Hospital Medicine 2015, March 29-April 1, National Harbor, Md.