A Randomized Trial of Real‐Time Automated Clinical Deterioration Alerts Sent to an Acute Care Team
1Washington University School of Medicine, Saint Louis, MO
2BJC Healthcare, Saint Louis, MO
3Barnes Jewish Hospital, Saint Louis, MO
4Saint Louis College of Pharmacy, Saint Louis, MO
Meeting: Hospital Medicine 2014, March 24-27, Las Vegas, Nev.
Abstract number: 82
Background:
Episodes of patient deterioration on hospital units are expected to increasingly contribute to morbidity and healthcare costs. This randomized, controlled study was designed to evaluate whether an automated clinical deterioration alert sent to the nurse member of an acute care team (ACT) could affect the rate of ICU transfer, hospital mortality, and hospital length of stay.
Methods:
The study was conducted on eight adult inpatient medicine units of Barnes‐Jewish Hospital (BJH), a 1250‐bed academic medical center in St. Louis, MO. An automated early warning system (EWS) previously described and developed at BJH was used to identify patients as "at risk" for clinical deterioration. The "at risk" patients were assigned by a computerized random number generator to either the intervention group or the control group over a four month period, 24 hours per day, 7 days per week. The intervention group had the alert sent in real‐time to the nursing member of the hospital's ACT, who performed a bedside assessment using the Modified Early Warning Score to make further clinical decisions and recommendations. The control group also generated an EWS alert, but the alert was hidden from clinical staff.
Results:
Between January 15, 2013 and May 9, 2013, 571 consecutive patients were enrolled in the study. Demographics, reason for hospital admission, and comorbidities of the two groups were similar. 2353 consecutive alerted patients from the same hospital units from 2011 made up the retrospective comparator group. ICU transfer (17.8% versus 18.2%; odds ratio, 0.972; 95% CI, 0.635‐1.490) and hospital mortality (7.3% versus 7.7%; odds ratio, 0.947; 95% CI, 0.509‐1.764) were similar for patients in the intervention and control groups. Hospital length of stay (8.4 + 9.5 days versus 9.4 + 11.1 days; P =0.038) was statistically shorter for the intervention group (see Table 1). Hospital mortality in 2013 was significantly lower compared to 2011 for alerted patients from the study units (7.5% versus 10.5%; odds ratio, 0.704; 95% CI, 0.502‐0.987) and mean hospital length of stay in alerted patients decreased from 10.3 + 10.5 days in 2011 to 8.9 + 10.4 days in 2013 (P < 0.001) despite similar values for the Charlson and Elixhauser comorbidity scores. This coincided with an increase in ACT calls on these units during this time period (121 in 2009, 194 in 2010, 298 in 2011, 415 in 2012, 415 in 2013 [projected]).
Conclusions:
Real‐time alerts sent to the ACT nurse were associated with a reduced hospital length of stay but no significant difference in mortality or rate of ICU transfer. We also observed lower mortality and reduced lengths of stay compared to historical data for alerted patients.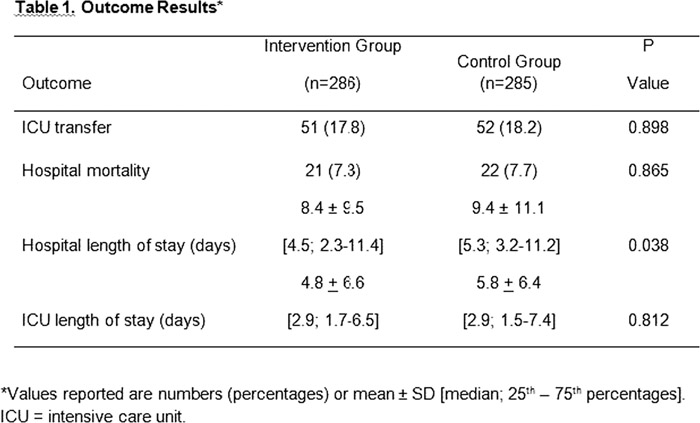 To cite this abstract:
Martin N, LaRossa G, Kollef M, Chen Y, Heard K, Lu C, Martin N, Micek S, Bailey T. A Randomized Trial of Real‐Time Automated Clinical Deterioration Alerts Sent to an Acute Care Team. Abstract published at
Hospital Medicine 2014, March 24-27, Las Vegas, Nev.
Abstract 82.
Journal of Hospital Medicine.
2014; 9 (suppl 2). https://www.shmabstracts.com/abstract/a-randomized-trial-of-realtime-automated-clinical-deterioration-alerts-sent-to-an-acute-care-team/. Accessed April 3, 2020.
« Back to Hospital Medicine 2014, March 24-27, Las Vegas, Nev.