Case Presentation:
A previously healthy 18‐year old man initially presented to his outpatient physician with fevers and a cough. After 1 week of telithromycin, he developed a sore throat, nausea, and recurrent high fevers. His exam was notable for hypoxemia, tachycardia, and diffuse rhonchi. Chest x‐ray showed bilateral infiltrates. He was admitted to an outside hospital in the Central Valley and started on broad‐spectrum antibiotics, including fluconazole for possible coccidiomycosis. Five days later, he developed a tender, fluctuant mass over his left lower neck. He was transferred with a presumptive diagnosis of disseminated coccidiomycosis.
CT of the neck showed an 11 ‐cm loculated mass extending from the left clavicular space to the mandible, as well as left jugular vein occlusion. CT of the chest revealed bilateral cavitary lesions and bilateral loculated pleural effusions. Cocci serologies and HIV PCR were negative.
Incision and drainage of the neck abscess were performed. A pigtail catheter was placed for drainage of the left pleural effusion. His respiratory status markedly improved, and fevers resolved. After 7 days of culture and after the patient was discharged, cultures from the neck abscess showed Fusobacterium necrophorum.
Discussion:
Lemierre's syndrome, initially described by Professor Andre Lemierre in 1936, is characterized by septic thrombophlebitis of the jugular vein preceded by a pharyngitis or upper respiratory infection. The causative bacteria are most commonly Fusobacterium, but include a variety of anaerobes. From the jugular vein, septic emboli commonly affect the lungs, causing pulmonary cavitary lesions. Sites of metastasis can be widespread, including kidney, joints, and even the brain. Respiratory symptoms are common, with imaging showing evidence of pulmonary abscesses. The range of illness is broad, with the spectrum including septic shock and multiorgan failure.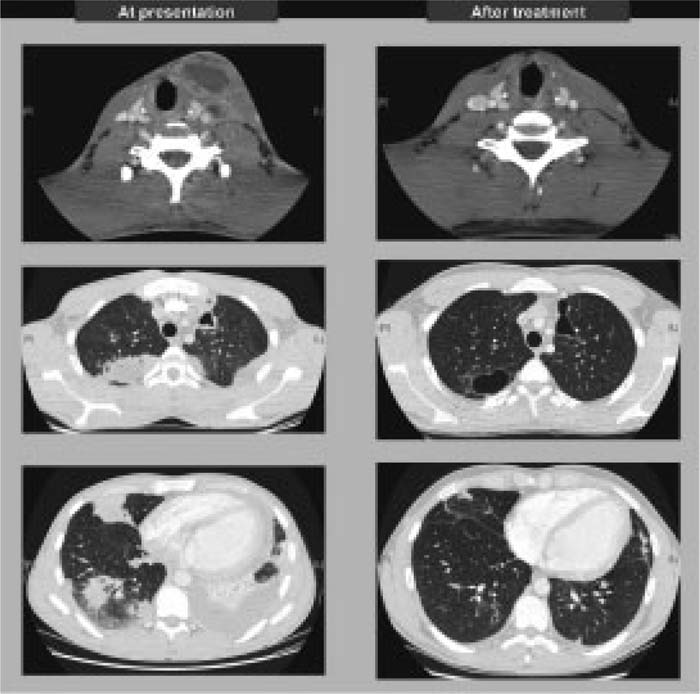 Conclusions:
Lemierre's syndrome represents an unusual clinical course following what begins as simple pharyngitis and results in suppurative internal jugular thrombophlebitis with infectious metastatic abscesses. The severity of respiratory decompensation, and sometimes sepsis, brings these patients into the care of hospitalists and intensivists. Despite Professor Lemierre's description of this disease as "a syndrome so characteristic that mistake is almost impossible," patients are in fact easily misdiagnosed. The clinical picture of respiratory compromise and multiorgan dysfunction can mimic other illnesses, in this case, coccidiomycosis. Early diagnosis requires recognition of the key clinical features, as waiting for the slow‐growing anaerobic culture can delay appropriate therapy. Although originally described almost a century ago, this syndrome is far from forgotten.
Author Disclosure:
N. Allaudeen, None.
To cite this abstract:
Allaudeen N. A Pain in the Neck: A Case of Lemierre's Syndrome. Abstract published at
Hospital Medicine 2007, May 23-25, Dallas, Texas
Abstract 108.
Journal of Hospital Medicine.
2007; 2 (suppl 2). https://www.shmabstracts.com/abstract/a-pain-in-the-neck-a-case-of-lemierres-syndrome/. Accessed April 1, 2020.