Background:
Individual provider performance drives group performance but appropriate attribution can be challenging, particularly when multiple providers care for a single patient. We sought to develop and operationalize individual provider scorecards that fairly attribute patient‐level metrics to individual hospitalists.
Purpose:
For patients cared for by hospitalists on a 17 to 24 bed unit from July 2010 to June 2013 we linked strings of billing data across each hospitalization, assigning "ownership" of patient care based on the type, timing, and number of charges associated with each hospitalization. Data were displayed in a dashboard spider plot format with password‐protected individual login capability for providers to see their own data in comparison to group data. (Figure 1). Patient level metrics included: observed‐to‐expected length of stay (LOS), 30 days readmissions, patient satisfaction (a pooled value of the 5 "provider" questions on hospital's patient satisfaction survey), appropriate prescription of prophylaxis against venous thromboembolism (VTE), percentage of discharges before 3pm, number of coded diagnoses, and communication with the primary care provider. For providers with outstanding performance on individual measures hospital funded incentive payments were provided.
Description:
After associating each hospitalization with a string of daily (history and physical, subsequent care, discharge day) charges, we assigned each metric to providers as follows: appropriate VTE prophylaxis was assigned to the provider who billed for the history and physical. Discharge prior to 3pm, and readmission rates were assigned to the provider who billed for the last service of hospitalization (whether coded as subsequent day or discharge day management). For the remaining metrics, multiple providers were assigned a portion of the metric, weighted by the percentage of charges entered by each provider. Results were scaled according to defined benchmark values for display. Although causation cannot be assumed, dramatic improvements in patient satisfaction/HCAPS scores and VTE prophylaxis were noted after the implementation of this dashboard.
Conclusions:
Generating meaningful provider‐level metrics from administrative data is feasible in an inpatient setting, even when multiple providers care for a patient over the course of a hospitalization. Providing providers with individualized data provides a framework for meaningful QI initiatives and may result in improvement of quality indicators. One limitation of our approach is the vulnerable to the quality of the patient‐level data.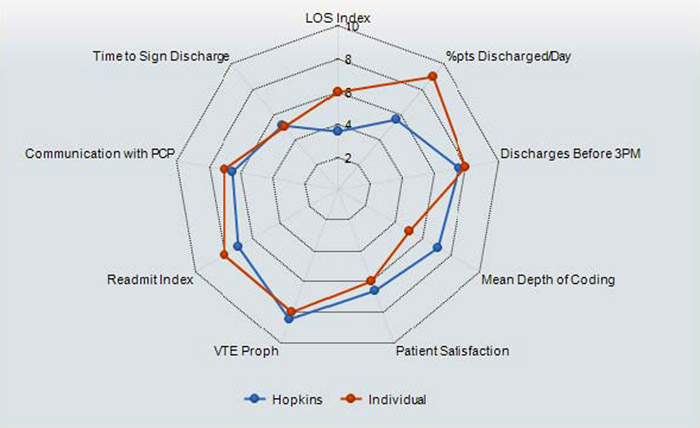 To cite this abstract:
Herzke C, Brotman D, Michtalik H, Durkin N, Deutschendorf A, Miller J, Finkelstein J. A Method for Attributing Patient‐Level Metrics to Rotation Providers in an Inpatient Setting. Abstract published at
Hospital Medicine 2014, March 24-27, Las Vegas, Nev.
Abstract 218.
Journal of Hospital Medicine.
2014; 9 (suppl 2). https://www.shmabstracts.com/abstract/a-method-for-attributing-patientlevel-metrics-to-rotation-providers-in-an-inpatient-setting/. Accessed April 1, 2020.
« Back to Hospital Medicine 2014, March 24-27, Las Vegas, Nev.