Case Presentation:
A 40 year old diabetic Native American male presented with progressive confusion of a few days duration. Patient was transferred from an outside facility with concern for lymphoma due to associated lymphadenopathy and sweats. On presentation to our facility the patient's history was significant for having a rash that developed two weeks earlier, cyclical fevers and exposure to a dead hawk that he had plucked the feathers off of for ceremonial purposes.
On admission had he a fever of 38.9 with tachycardia, with the remaining vital signs within normal limits. His initial physical exam showed he had shallow painful oral ulcers, a rash of varying ages on bilateral lower extremities most of which were brown in color with a few papules with a red base, left inguinal adenopathy, and an ulcer with a central eschar on the left buttock.
The initial labs showed pancytopenia, an elevated LDH with elevated transaminases, and a sodium of 122 (113 at outside hospital). A CT scan showed necrotic left inguinal lymphadenopathy, splenic hypodensities, and lung masses. An inguinal lymph node excision was done which showed only necrotic tissue. Blood cultures yielded Francisella tularemia after approximately 5 days and a diagnosis of Ulceroglandular Tularemia was made. He was treated initially with doxycycline and later received 2 days of intravenous aminoglycoside therapy followed by a course of oral doxycline.
Discussion:
Tuleremia is a zoonotic infection transmitted via an insect vector or via contact with infected animals including rodents and dogs. It was felt in this case that the likely source of infection was contact with hawk feathers as they feed on commonly infected animals like rabbits and other rodents.
Tularemia has a variety of presentations, the Ulceroglandular seen in this case being the most common. This patient presented with fever and a papulo-ulcerative lesion with a central eschar as well as a diffuse rash. The skin rash is not an uncommon aspect of the illness and is frequently overlooked by practitioners. Diagnosis usually is made from history, in this case exposure to the dead hawk combined with physical exam and can be confirmed with agglutination or microagglutination testing. It is uncommon for the microorganism to grow in blood culture due to its fastidious nature requiring cysteine in the growing medium. If tularemia is suspected the accepting lab should be notified to facilitate protection of lab staff and to permit use of appropriate culture media
Conclusions:
We present a case of tularemia associated with exposure to raptor feathers. This case of tularemia was associated with positive blood cultures which is also uncommon. Initial hypothesis of lymphoma led to anchor bias resulting in delayed diagnosis. Aminoglycosides are usually the agent of choice with alternatives being tetracyclines or flouroquinolones.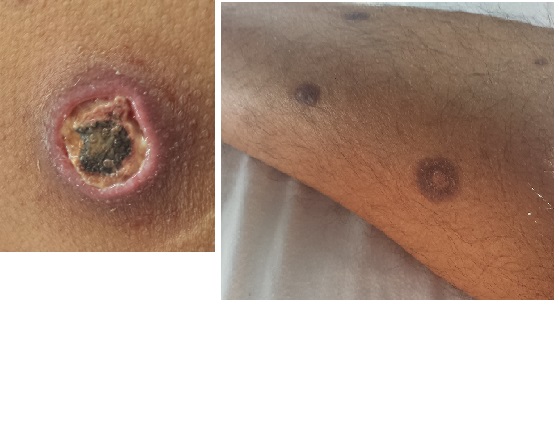 To cite this abstract:
Scott S, Altamimi B. A Hawk Strikes from Beyond the Grave. Abstract published at
Hospital Medicine 2016, March 6-9, San Diego, Calif.
Abstract 785.
Journal of Hospital Medicine.
2016; 11 (suppl 1). https://www.shmabstracts.com/abstract/a-hawk-strikes-from-beyond-the-grave/. Accessed March 30, 2020.
« Back to Hospital Medicine 2016, March 6-9, San Diego, Calif.