A Discharge Pharmacist to Improve Medication Safety and Cost Avoidance
1University of Kansas School of Medicine, Kansas City, KS
2University of Kansas School of Medicine, Kansas City, KS
3University of Kansas Hospital, Kansas City, KS
Meeting: Hospital Medicine 2010, April 8-11, Washington, D.C.
Abstract number: 184
Background:
Hospitalization and discharge‐associated transitions often involve changes in medication regimens that can lead lo adverse drug events and possible avoidable health care utilization. Studies have shown that discharge adverse events are prevalent, and medication errors are the most common.
Purpose:
To reduce medicalion errors at the lime of discharge and their potential costs and associated readmissions and lo increase patient knowledge and awareness QI medications by implementing a pharmacist medication review and counseling.
Description:
Project BOOST (Better Outcomes for Older Adults through Safe Transitions) was developed lo decrease adverse events that may result from the discharge process. It is based on using evidence‐based tools To better identify at‐risk patients, and use interventions focused on reducing their risk of readmission. A major emphasis is medication safety. Our electronic medical record design positions Ihe pharmacist lo be best equipped to identify opportunities to intervene on medication safety. Because of concern of alert fatigue for physicians, pharmacists are the only group thai views all the medication alerts. In addition, the pharmacy has created reports dedicated to determining the most efficient and safe medicalion regimen for patients. As part of Project BOOST, pharmacist participation includes counseling, medication reconciliation, and creating a calendar. Through this protect, the pharmacist has become an integral part of the team, identifying errors, eliminating unnecessary medications, and simplifying medication scheduling, as well as improving patient adherence.
Conclusions:
To date, there have been a total of 172 interventions identified on 123 patients counseled by the pharmacist (Fig. 1). Preliminary analysis of data found that patients were discharged on an average of 14.1 medications. One hundred and six of the patients (82.8%) were discharged on high‐risk medications that required extensive counseling. The average total time per patient counseled has been found to be approximately 35 minutes. Review of interventions from the preliminary data has suggested prevention of serious patient harm, resulting in a cost avoidance of $206,556 (Table 1). Pharmacist integration in the discharge process has the potential to decrease errors and costs. Patient assessment of the value of this intervention has been very positive.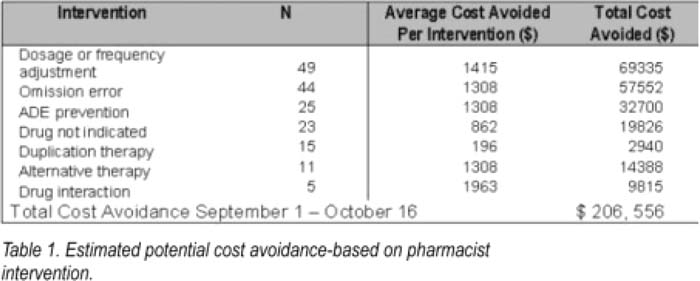 Author Disclosure:
A. Pal, none; S. Babbott, none; S. Wilkinson, none
To cite this abstract:
Pal A, Babbott S, Wilkinson S. A Discharge Pharmacist to Improve Medication Safety and Cost Avoidance. Abstract published at
Hospital Medicine 2010, April 8-11, Washington, D.C.
Abstract 184.
Journal of Hospital Medicine.
2010; 5 (suppl 1). https://www.shmabstracts.com/abstract/a-discharge-pharmacist-to-improve-medication-safety-and-cost-avoidance/. Accessed April 1, 2020.
« Back to Hospital Medicine 2010, April 8-11, Washington, D.C.