Granulomatosis with Polyangiitis (GPA) is a multi-system, immune-mediated disorder characterized by necrotizing vasculitis. Diagnosis can be difficult since symptoms are nonspecific and often hard to distinguish from non-vasculitic processes. We present a diagnostic dilemma for Granulomatosis with Polyangiitis where affected vessels were completely destroyed by granulomatous infiltration and the typical necrotizing vasculitis was difficult to find.
Case Presentation: A 46 year old female was admitted to the hospital for the evaluation of cavitary pulmonary lesions. Three months prior to admission, she presented to her primary care physician with dyspnea, cough and fever. CT scan of the chest showed numerous small bilateral pulmonary nodules. A CT guided lung biopsy was negative for malignancy, vasculitis, fungal and bacterial infection. Serology was negative for Aspergillus, Cryptococcus, Blastomyces and Histoplasma. ANCA IFA was less than 1:20 (negative). The patient was treated with multiple courses of antibiotics, as well as low dose steroids, but her condition continued to deteriorate. A repeat CT scan showed progression of bilateral masses, and more extensive cavitation (the largest one 7.7×4.3 cm) (see image below). Due to the rapid progression of the disease and lack of a definitive diagnosis, an open lung biopsy was performed. The biopsy showed necrotizing granulomatous inflammation but no signs of necrotizing vasculitis. Cultures were negative for aerobic and anaerobic bacteria, AFB, and fungus. Despite the non-specific lab and pathology findings, clinical suspicion for GPA was high, and a tissue sample was sent to another facility for a second opinion. The pathology report confirmed the diagnosis of Wegner's granulomatosis. A repeat ANCA was positive for anti-proteinase-3 antibody. The patient responded well to subsequent immunosuppressive therapy.
Discussion: The GPA is associated with significant morbidity and mortality and thus the early diagnosis and treatment is essential. However, current treatment regimens are in themselves potentially toxic therefore positive histological diagnosis is sought even in cases with a suggestive clinical presentation and serology. An open or thorascopic lung biopsy is often required to obtain an adequate sample size for analysis. Histological features of GPA are vasculitis, necrosis and granulomatous inflammation. Transmural infiltration of blood vessels with inflammatory cells associated with granulomatous inflammation of surrounding tissue is characteristic of GPA. One of the challenges in the microscopic diagnosis of GPA is that infectious etiologies can also present as vascular inflammation within areas of inflamed parenchyma. However, vasculitis in the absence of surrounding inflammation is pathognomonic for a GPA. In addition, necrosis of the vascular media as seen in GPA is rare in infectious vasculitis.
Conclusions: The diagnosis was difficult in this case because necrotizing vasculitis, a distinguishing feature of GPA, was not seen since the affected vessels were completely destroyed by granulomatous infiltration. This case illustrates that while Granulomatosis with polyangiitis is a rare disease, it should always be considered in patients with such a clinical picture. This case also highlights the fact that a negative ANCA and a non-diagnostic biopsy should not rule-out the diagnosis in patients for whom you have a strong clinical suspicion for GPA.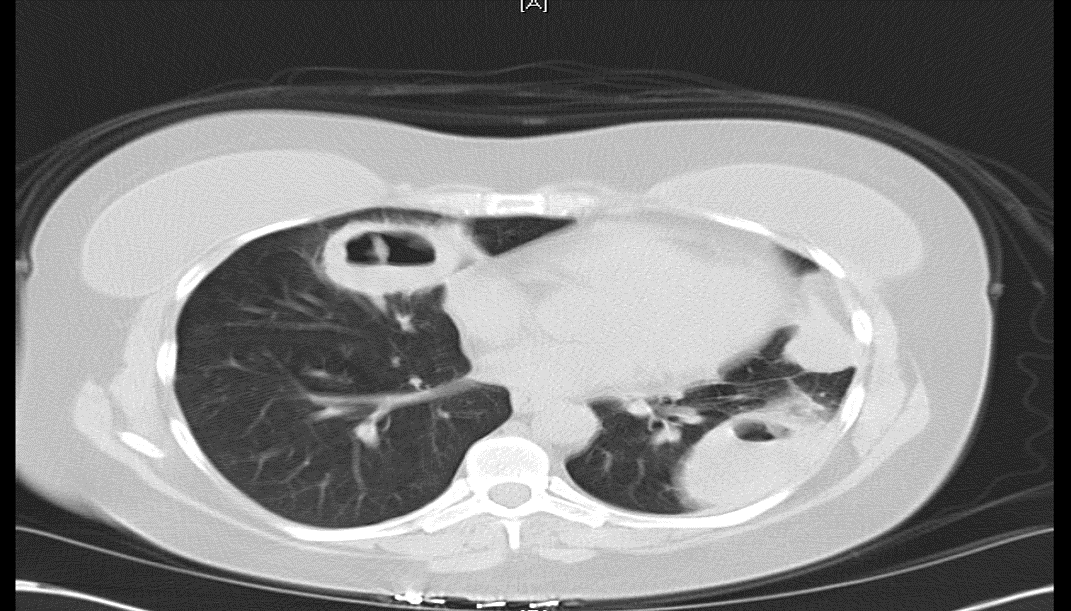 To cite this abstract:
Bertuch K, Friedstrom S, Mallick S, Edeani F. A Challenging Diagnosis of Granulomatosis with Polyangiitis (Gpa, Wegner's Granulomatosis). Abstract published at
Hospital Medicine 2015, March 29-April 1, National Harbor, Md.
Abstract 456.
Journal of Hospital Medicine.
2015; 10 (suppl 2). https://www.shmabstracts.com/abstract/a-challenging-diagnosis-of-granulomatosis-with-polyangiitis-gpa-wegners-granulomatosis/. Accessed April 2, 2020.
« Back to Hospital Medicine 2015, March 29-April 1, National Harbor, Md.