A Catastrophic Presentation of Thrombotic Thrombocytopenic Purpura (Ttp): Large Vessel Infarction of the Right Middle Cerebral Artery
1North Shore - LIJ Health System, Manhasset, NY
2 Hofstra North Shore-LIJ School of Medicine, North Shore University Hospital, Manhasset, NY
3 North Shore LIJ, Manhasset, NY
4 Hofstra North Shore - LIJ School of Medicine, North Shore University Hospital, Manhasset, NY
Meeting: Hospital Medicine 2015, March 29-April 1, National Harbor, Md.
Abstract number: 638
Keywords: Clinical Vignette Abstracts — Adult
Case Presentation:
67 year old right-handed female with past medical history of morbid obesity, hirsutism and pre diabetes mellitus presented to the Emergency Department with a chief complaint of acute onset of slurred speech. Notably she had a diarrheal illness one week prior to presentation. Patient's surgical, social and family histories were non-contributory and the patient's only medication was spironolactone.
Physical exam was notable for vitals within normal limits, partial gaze palsy, asymmetric smile, left arm motor drift, moderate dysarthria and profound right-sided neglect (National Institute of Health Stroke Scale Score of 7). A computed tomography (CT) of head was negative for acute hemorrhage and initial blood count revealed severe thrombocytopenia, making the patient not a candidate for tissue plasminogen activator. Further investigation showed laboratory work consistent with TTP (Table 1).
The patient was admitted to the medical intensive care unit where plasmapharesis and steroids were instituted. A CT angiography (CTA) scan of the head was obtained and was consistent with a right middle cerebral artery (MCA) occlusion (Figure 1). Magnetic resonance imaging (MRI) of the brain further demonstrated acute infarct in the territory of the M1 segment of the MCA. Brain MRI also revealed multiple scattered areas of ischemia in the cerebellar hemispheres, occipital lobes and left frontal lobe, thus an embolic event had to be ruled out. After a prolonged hospital course with no arrhythmia captured on telemetry or daily electrocardiograms, transesophagel echocardiography negative for an embolic source or left atrial dilation, and CTA neck without cervical carotid or vertebral artery stenosis, the patient was discharged to rehab with a diagnosis of TTP as the cause of right MCA occlusion.
Discussion:
Thrombotic thrombocytopenic purpura is a well characterized syndrome resulting in multiorgan dysfunction. TTP's classic pentad includes thrombocytopenia, microangiopathic hemolytic anemia, neurologic symptoms, renal failure and fever. It is estimated that 50% of patients with TTP present with neurologic manifestations that include seizures and fluctuating neurologic deficits from small vessel infarctions. However, large vessel infarctions with long standing deficits remain a rare presentation of TTP. This case adds to the sparse literature of ischemic stroke as an acute presentation of TTP.
Conclusions:
TTP should be considered in patients with acute presentation of neurologic deficits, including symptoms of large vessel ischemic stroke.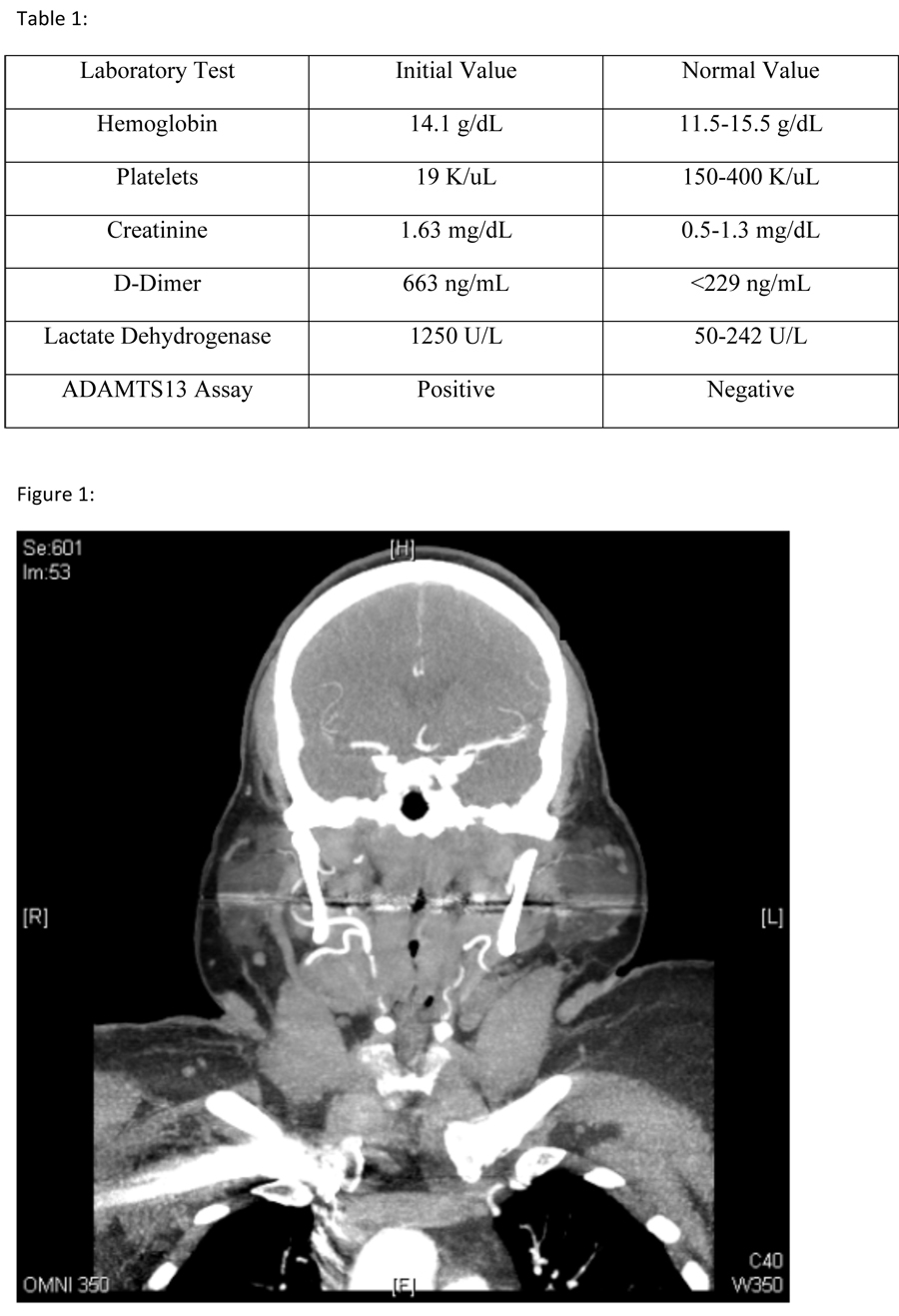 To cite this abstract:
Nejat R, Sugarman R, Schneidmesser E, Katona K. A Catastrophic Presentation of Thrombotic Thrombocytopenic Purpura (Ttp): Large Vessel Infarction of the Right Middle Cerebral Artery. Abstract published at
Hospital Medicine 2015, March 29-April 1, National Harbor, Md.
Abstract 638.
Journal of Hospital Medicine.
2015; 10 (suppl 2). https://www.shmabstracts.com/abstract/a-catastrophic-presentation-of-thrombotic-thrombocytopenic-purpura-ttp-large-vessel-infarction-of-the-right-middle-cerebral-artery/. Accessed April 3, 2020.
« Back to Hospital Medicine 2015, March 29-April 1, National Harbor, Md.