Case Presentation:
A 49 year old Hispanic male presented with epigastric abdominal pain for 2 months, nausea and vomiting without a significant past medical history. He rarely consumed alcohol and denied any recent trauma. He presented one month earlier with similar symptoms and due to noted cholelithiasis on abdominal ultrasound, he was diagnosed with gallstone pancreatitis and a cholecystectomy was performed. His abdominal pain, however, recurred 2 days after the procedure, prompting his second admission. On examination, he was cachectic with epigastric tenderness (no rebound) and normal bowel sounds. Work up revealed elevation of the following: lipase, liver enzymes and CA 19-9 (500 units/mL).
CT scan of the abdomen and pelvis showed a poorly defined large conglomerate soft tissue mass in the retroperitoneum midline encasing the superior mesenteric artery and displacing duodenum (portions were against the pancreatic head). The pancreas was enlarged and edematous. There were surrounding enlarged lymph nodes and nodes in the mesentery. Endoscopic ultrasound and fine needle aspiration (FNA) of the peripancreatic lymph nodes were performed. FNA showed DLBCL (diffuse large B cell lymphoma), Ann Arbor stage 3, leading to compressive pancreatitis. He had both MYC (proto-oncogene) rearrangement and BCL2 (apoptosis regulator) translocation (more aggressive subtype associated with worse prognosis).
He achieved full remission after 3 cycles of chemotherapy. The subsequent PET scan showed no evidence of residual lymphoma and the patient's symptoms resolved.
Discussion:
To the best of our knowledge, there is no other report of DLBCL causing compressive pancreatitis. Early identification of this rare presentation of DLBCL is essential as DLBCL is curative in more than half of patients with standard chemotherapy. The presence of both MYC (proto-oncogene) rearrangement and BCL2 (apoptosis regulator) translocation are termed "double hit" due to their dual nature of insult but early treatment can achieve remission.
It is also important to note that not all pancreatic/ pancreatic adjacent masses are pancreatic cancers (even with CA 19-9 elevation). CA 19-9 can be elevated in the following conditions: cirrhosis, cholestasis, cholangitis, and pancreatitis. Re-evaluating a patient who is not responding to conservative therapy for pancreatitis and investigating for other causes of recurrent pancreatitis is needed for timely diagnosis.
Conclusions:
Diffuse large B cell lymphoma can be curative in many patients. DLBCL with compressive pancreatitis is uncommon, but patients can present with abdominal pain, weight loss, nausea, vomiting, and acute pancreatitis. Patients can be treated with conservative therapy and other causes of pancreatitis may not be investigated until there is further disease progression. DLBCL causing compressive pancreatitis is rare and early identification can be life saving.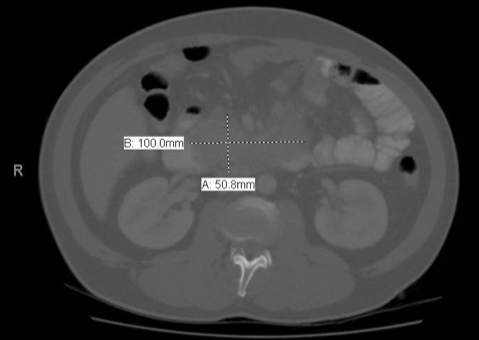 To cite this abstract:
John A, Drake S. A Case of Recurrent Pancreatitis: More Than Meets the Eye. Abstract published at
Hospital Medicine 2016, March 6-9, San Diego, Calif.
Abstract 585.
Journal of Hospital Medicine.
2016; 11 (suppl 1). https://www.shmabstracts.com/abstract/a-case-of-recurrent-pancreatitis-more-than-meets-the-eye/. Accessed October 14, 2019.
« Back to Hospital Medicine 2016, March 6-9, San Diego, Calif.