Background: Proton pump inhibitors (PPIs) are one of the most prescribed medications in the United States. Long-term PPI use is increasingly being associated with many adverse health consequences such as Clostridium difficile infections, osteoporosis, impaired nutrient, increased risk of spontaneous bacterial peritonitis, increased risk of pneumonia, and increased risk of acute interstitial nephritis. These adverse effects lead to increased health care expenditure.
Purpose: 1. Quantify the problem of inappropriate prescribing of PPIs by hospitalists in patients admitted to non-ICU beds and at discharge at a large safety net hospital.
2. Determine the underlying causes of inappropriate PPI prescribing.
3.Design and implement interventions to decrease unnecessary prescribing of PPIs.
Description: Baseline data was obtained by retrospective chart review of 319 patients from June 2017 who were prescribed PPIs. In 195 (61%) patients, PPI was newly prescribed and in 124 (39%) patients it was prescribed as a continuation of outpatient prescription. Overall, 186 (58%) prescriptions were deemed inappropriate – 68 (21%) inappropriate continuation of outpatient PPI, 118 (37%) inappropriate new prescription of PPI. The major reasons for inappropriate prescriptions were stress ulcer prophylaxis, steroid use, and automatic continuation of outpatient PPIs.
Of all the patients prescribed PPI as inpatient, 212 (67%) were discharged on it. Of these, 111 (52%) did not have valid indications. At 6- month follow-up, 103 (47%) of the patients inappropriately discharged on a PPI were still on it.
Hospitalists (n=35) were surveyed to understand their current PPI prescribing practices and their perspective on the causes of inappropriate PPI use. The main reasons providers gave for inappropriate prescription of PPIs included automatic continuation of outpatient medications, reluctance to stop PPIs ordered by another provider, ordering as part of an order set, and low perceived risks.
Using this data, interventions addressing the various causes of inappropriate PPI use were rated with a prioritization matrix, and the best interventions were chosen and implemented.
1. Educational Interventions: group education to hospitalists.
2.Using EMR(electronic medical record) to guide practice including removing PPIs from the med-surg admission order set, changing the default number of refills from blank (providers fills in number of refills) to 1 on the outpatient PPI orders.
3. Audit and feedback: report cards on PPI use to the top 15 providers who over prescribed PPI were provided.
Conclusions: Non-ICU patients are often unnecessarily started and discharged on PPIs . The main reasons for unnecessary inpatient PPI prescribing are stress ulcer prophylaxis and continuing outpatient PPI without indication. Targeted interventions based on our chart review and survey results will help decrease inappropriate use of PPIs both inpatient and upon discharge .
Our next steps are to collect data to see if our interventions have made an impact and also extend our interventions to providers in the outpatient primary care clinics.
IMAGE 1: Reasons provider prescribed an inpatient PPI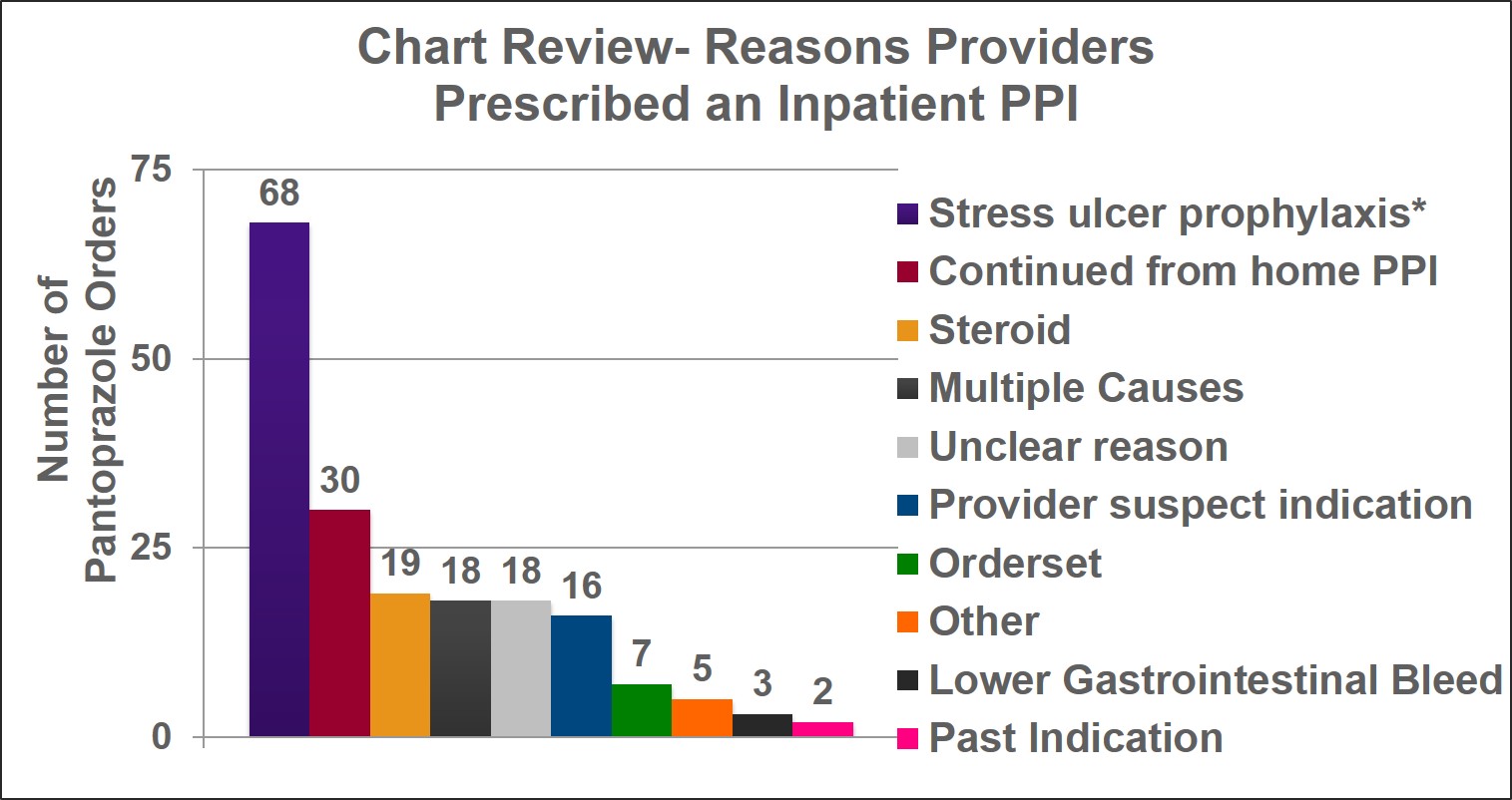 To cite this abstract:
Kannan, S; Garza, J; Tsai, T; Jain, S; Chu, ES; Agrawal, D. A BUNDLED INTERVENTION TO REDUCE INAPPROPRIATE PRESCRIBING OF PROTON PUMP INHIBITORS IN AN ACADEMIC URBAN HOSPITAL MEDICINE GROUP. Abstract published at
Hospital Medicine 2019, March 24-27, National Harbor, Md.
Abstract 309. https://www.shmabstracts.com/abstract/a-bundled-intervention-to-reduce-inappropriate-prescribing-of-proton-pump-inhibitors-in-an-academic-urban-hospital-medicine-group/. Accessed January 25, 2020.
« Back to Hospital Medicine 2019, March 24-27, National Harbor, Md.