Case Presentation:
A 55-year-old man with hepatitis C was admitted for fevers, night sweats, weight loss, and a swollen inguinal lymph node. He first noticed pain in his right groin one month ago, like someone was burning him with a cigarette. He also felt a hard "marble" in his groin. The following morning, he noticed that the swelling in his groin had increased overnight. The swelling continued to enlarge over the next month to the size of a golf ball. Four days prior to admission, he had fevers and drenching night sweats that required him to change the sheets each morning. Of note, the patient lives on a farm and has many family pets, including a kitten which had bitten him on several occasions. Other exposures included hunting deer and rabbits, chopping moldy firewood, and a remote history of a decade-long incarceration.
Upon admission, he had a fever of 38.9 °C. A firm, enlarged, and painful lymph node was palpable in the right inguinal canal. An abdominal CT scan showed right inguinal lymphadenopathy with the largest node measuring 2.3 x 3.4 cm, as well as numerous sub-centimeter retroperitoneal lymph nodes and borderline splenomegaly. Given the concern for lymphoma, he had an excisional biopsy of his inguinal lymph node. Pathology showed necrotizing lymphadenitis with central areas of necrosis, a neutrophilic infiltrate, and surrounding histiocytes. Special stains were initially unrevealing until the Warthin-Starry stain unveiled bacilli. Eventually, the Bartonella henselae IgG serology resulted positive with a titer of 1:1024, as well as cross-reactivity to Bartonella quintana with a titer of 1:128. Of note, negative testing included Mycobacterium tuberculosis, Francisella tularensis, Histoplasma, Brucella, Cryptococcus, and HIV, in addition to negative blood cultures and flow cytology. The patient was treated with doxycycline with resolution of his symptoms.
Discussion:
Although this patient had classic B-symptoms with lymphadenopathy concerning for lymphoma, his serology and biopsy were consistent with a Bartonella henselae infection. His exposure risk included owning a kitten (a fifteen-fold increase in transmission risk). Cat scratch disease typically presents with a vesicle at the inoculation site, followed by regional lymphadenopathy two weeks later. The lymph nodes are tender, ranging from one to five centimeters. Fevers and weight loss may occur, especially in the setting of visceral organ involvement of the liver and spleen. Other manifestations include culture-negative endocarditis and, rarely, encephalitis. With regards to diagnosis, serologies are the best initial test but may lack specificity because of false positives from previous exposures. Titers above 1:256 are strongly suggestive of infection. On pathology, Bartonella is only visible with silver stains which may not be very sensitive or specific.
Conclusions:
Cat-scratch disease requires a high index of suspicion and thorough history to elucidate the diagnosis, especially in the case of B-symptoms. Serologies are the best test to confirm diagnosis, and organisms can be seen on the Warthin-Starry stain.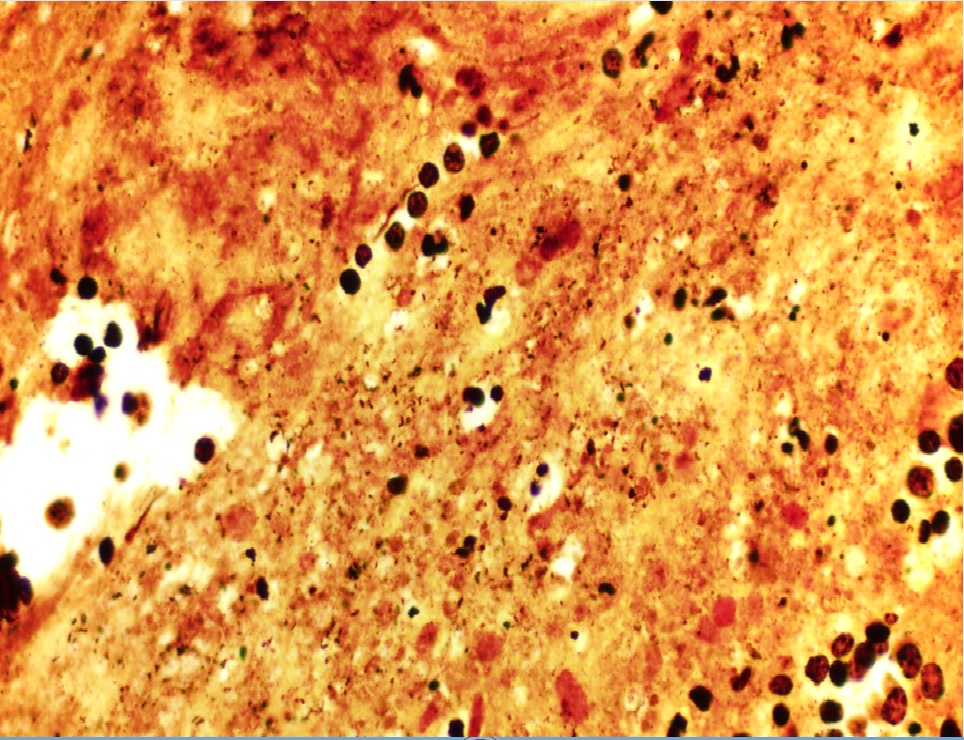 « Back to Hospital Medicine 2015, March 29-April 1, National Harbor, Md.