Case Presentation:
A 45 year old man presented to our institution after a prolonged unidentified illness. Six months prior to presentation he had been started on atenolol for an "aortic stenosis murmur" and a small ascending aortic aneurysm. A few weeks later he developed anorexia, intermittent fevers and diarrhea. Atenolol was stopped, however diarrhea persisted for several months afterwards and prompted an extensive gastroenterology evaluation with CT scans and colonoscopies. No pathology was found. He continued with fevers, anorexia and lost 25 kg. He also developed worsening normocytic anemia; however a celiac screen was unremarkable. There was mild splenomegaly on CT, and a transient erythematous rash on extremities followed by skin desquamation and eventual resolution. He subsequently developed peripheral neuropathy, back pain and arthralgias. ANA was significantly elevated, with a nuclear pattern; however, other rheumatologic markers were negative. A neurologist started him on a 6 week trial of steroids which improved his neuropathy. However, his overall constitutional symptoms persisted and he presented to our institution for a second evaluation. On arrival, he looked chronically ill and our exam revealed jugular venous distension, significant mitral regurgitation murmur, aortic flow murmur and peripheral edema. Transesophageal echocardiogram uncovered vegetations on the anterior and posterior mitral leaflets, the largest measuring 1.8X1.0 cm, affecting the P2 scallop, and torrential mitral regurgitation. Blood cultures grew Streptococcus mitis in 6 out of 6 bottles after 15 hours. The patient's constellation of symptoms with arthralgias, back pain and splenomegaly raised the suspicion for embolic seeding. MRI of the brain demonstrated small septic emboli in the right occipital lobe. The patient felt better after the initiation of antibiotics, and subsequently underwent vegetectomy and successful repair of his native mitral valve.
Discussion:
Nonspecific signs and symptoms and multisystem involvement are problems commonly encountered by hospitalists. However, a prolonged nonspecific illness and fever of unknown origin should always raise the suspicion for endocarditis. Our patient underwent an extensive unrelated workup first, including GI, rheumatologic, neurologic and hematologic evaluations. However, the acuity of the physical exam prompted the TEE and uncovered a unifying diagnosis. Streptococcus mitis, a type of Strep viridans, common mouth pathogen, can present as a smoldering subacute infection making initial diagnosis challenging. After all, the patient's myriad of symptoms on presentation was secondary to his systemic illness.
Conclusions:
This vignette highlights an unusual presentation of infective endocarditis, with multisystem involvement and sequelae of chronic illness severe enough to overshadow the underlying disease. However, a significant murmur on exam and a high clinical suspicion guided us towards the right diagnosis.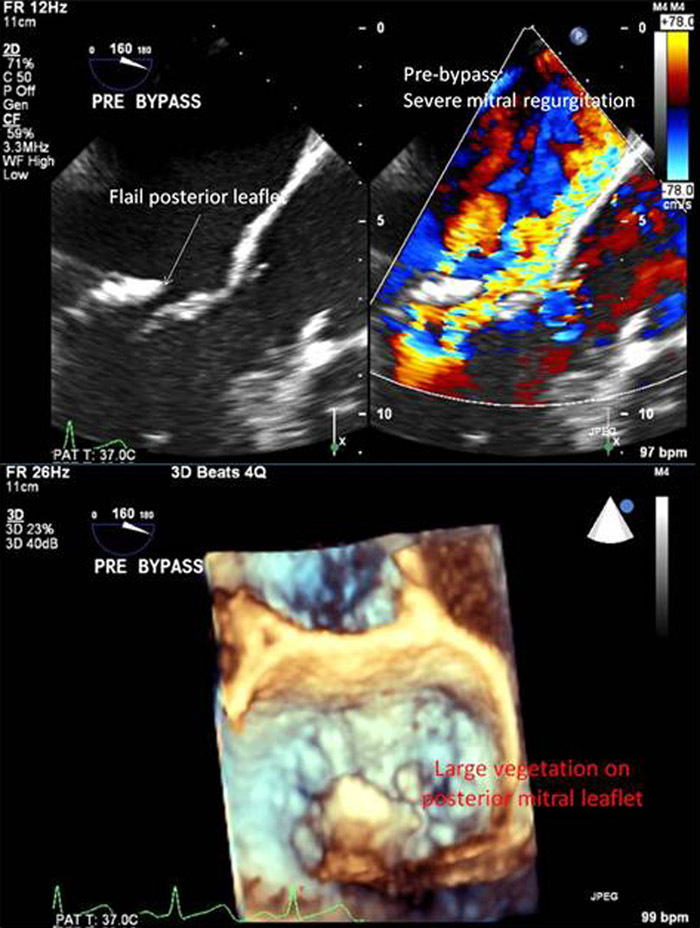 To cite this abstract:
Chiriac A, Pislaru S, Jenad H, Buechler T, Pellikka P, Newman J. A 45 Year Old Man with Fever, Weight Loss, Anemia and Peripheral Neuropathy. Abstract published at
Hospital Medicine 2014, March 24-27, Las Vegas, Nev.
Abstract 386.
Journal of Hospital Medicine.
2014; 9 (suppl 2). https://www.shmabstracts.com/abstract/a-45-year-old-man-with-fever-weight-loss-anemia-and-peripheral-neuropathy/. Accessed November 18, 2019.
« Back to Hospital Medicine 2014, March 24-27, Las Vegas, Nev.