Case Presentation: A 24-year-old Japanese American male presented with 3-4 weeks of sore throat, fever, vomiting, and fatigue. He was found to be in respiratory distress and was quickly intubated. Physical exam was remarkable for decreased breath sounds along right anterior lung field. His initial chest x-ray showed a large opacity within the right upper and right middle lobes, with possible cavitation. Blood cultures were obtained, and empiric antibiotics were initiated. Blood cultures quickly grew gram negative rods. Computed tomography scan of the chest, abdomen, and pelvis showed micro-abscesses in his liver, spleen, and kidneys, as well as a non-occlusive clot in his inferior vena cava.  He also had a large infiltrate in the right upper lobe with air-fluid level.  His blood cultures returned as Fusobacterium necrophorum. A carotid artery ultrasound was then performed, which demonstrated a clot in the right internal jugular vein, consistent with Lemierre's syndrome. Although his HIV p24-antigen was positive, he had negative HIV-1 and 2 antibody testing, and undetectable HIV viral load, so this was felt to be a false positive. He ultimately required thoracotomy and right upper lobectomy for source control, which quickly yielded clinical improvement.
Discussion: Andre Lemierre published a series of 20 cases in 1936 describing anaerobic septicemia mostly associated with oropharyngeal infection with cervical extension and multiple pulmonary abscess formations that has since been referred to as "Lemierre's Syndrome". Although there is no formal definition for Lemierre's syndrome, it has been described as a history of anginal illness with metastatic lesions to lungs or other sites with either evidence of internal jugular thrombophlebitis, or isolation of Fusobacterium sp from blood culture or other normally sterile site. It typically presents in 2 phases, with the first phase involving oropharyngeal infection and the second phase occurring 4 to 14 days later, involving the spread of infection from the oropharynx to the internal jugular vein with thrombophlebitis and sepsis. The primary pathogen for the infection, Fusobacterium necrophorum, is an obligate anaerobic, gram negative rod, and is isolated in over 80% of cases of Lemierre's syndrome. CT should be used to confirm the presence of septic pulmonary emboli. Ultrasound can be used to evaluate for thrombophlebitis, but is limited, so CT with contrast is the diagnostic test of choice. The primary treatment for Lemierre's syndrome is antibiotics. Preferred agents include carbapenems, beta lactam/β-lactamase inhibitors, or metronidazole.  Duration of treatment is typically 2-4 weeks of intravenous antibiotics, then transitioning to oral antibiotics for a total of 6 weeks. Although the role of anticoagulation is controversial, it has been postulated to decrease the risk of clot extension and possibly shorten recovery time.
Conclusions: Lemierre's syndrome, usually caused by Fusobacterium sp, should be suspected in young patients with a preceding oropharyngeal infection, who then develop septic shock with multiple metastatic abscesses.  CT scan and/or ultrasound should be used to rule out or confirm presence of thrombophlebitis.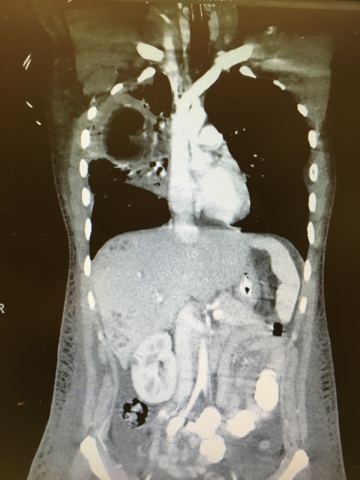 To cite this abstract:
Glance S, Farmer ZL, Chow S, Hearn BE. A 24 Year Old Man with Pulmonary Infiltrates and Sepsis. Abstract published at
Hospital Medicine 2016, March 6-9, San Diego, Calif.
Abstract 519.
Journal of Hospital Medicine.
2016; 11 (suppl 1). https://www.shmabstracts.com/abstract/a-24-year-old-man-with-pulmonary-infiltrates-and-sepsis/. Accessed April 4, 2020.
« Back to Hospital Medicine 2016, March 6-9, San Diego, Calif.