30‐Day Readmission Related Patient Satisfaction
1Johns Hopkins School of Medicine, Baltimore, MD
2Johns Hopkins Hospital, Baltimore, MD
3Johns Hopkins health System, Baltimore, MD
Meeting: Hospital Medicine 2014, March 24-27, Las Vegas, Nev.
Abstract number: 166
Background:
Improving patient satisfaction and reducing hospital readmissions are both considered important quality improvement goals. However, the relationship between 30‐day readmission and patient satisfaction is not well understood. For example, it is unknown if low patient satisfaction in specific domains after initial admission reflects failure of discharge planning and future readmission. We used multi‐center HCAHPS and Press Ganey scores to study the relationship between patient satisfaction and readmission.
Methods:
HCAHPS and Press Ganey survey responses from July 2008 through June 2013 for 5 hospitals associated with a single healthcare system were analyzed. Administrative data were used to identify 30‐day readmissions. Patients with available survey receipt date for their satisfaction survey responses were included in the study. Based on survey receipt date, patients who were readmitted were divided into two categories: 1) Patients who were readmitted after turning in the survey and, 2) Patient were readmitted prior to turning in the survey. Patients who were not readmitted within 30 days of discharge served as the controls. Percent of responses in the top box category of each survey item was calculated.
Results:
On average, patients took 33.9 days (33.6‐34.1) to respond. Only 11.3% of readmitted patients returned the survey prior to readmission. These patients had no significant decreased satisfaction relative to the non‐readmitted group on any survey questions. Patients that returned survey after readmission, when compared to those not readmitted, were significantly dissatisfied with physician communication, pain control, hospital environment, phlebotomy staff and meals. While they felt satisfied with information about how to seek help after discharge, they remained dissatisfied with the discharge process. However, there was no difference in overall satisfaction between the groups (Tables 1 and 2).
Conclusions:
Amongst patients who are readmitted, the vast majority return the survey after readmission and their opinion likely incorporates their feelings about unplanned readmission. These patients appear to be dissatisfied with physician communication and with the discharge process, but also are dissatisfied with a variety of other factors that are less directly related to readmission. The observation that patients who were readmitted prior to turning in the survey had similar ratings as those who were readmitted after to turning in the survey offers reassurance that survey responses are not unduly influenced by an intervening rehospitalization.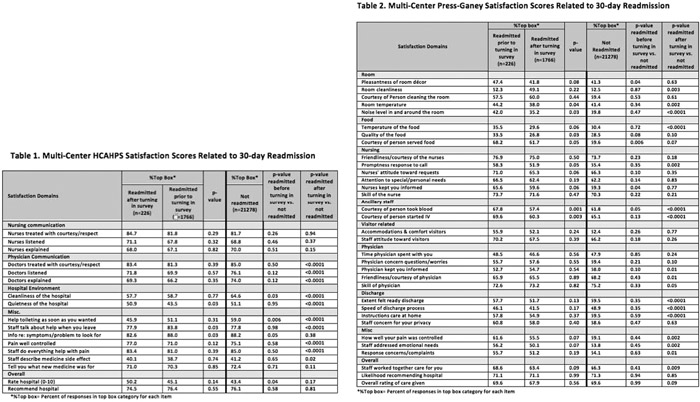 To cite this abstract:
Siddiqui Z, Durkin N, Zuccarelli R, Brotman D. 30‐Day Readmission Related Patient Satisfaction. Abstract published at
Hospital Medicine 2014, March 24-27, Las Vegas, Nev.
Abstract 166.
Journal of Hospital Medicine.
2014; 9 (suppl 2). https://www.shmabstracts.com/abstract/30day-readmission-related-patient-satisfaction/. Accessed March 28, 2020.
« Back to Hospital Medicine 2014, March 24-27, Las Vegas, Nev.